Do you have a book coming out soon but your online presence isn't ready for launch?
With the Author Platform from Scratch package, we make sure you have all the author platform basics set-up and ready to go so that when your book is out in the world, you're ready to sell a lot of copies, get genuine reviews, and build lasting connections with readers.
You need more than a fancy author website. You also need to be ready to send email newsletters without the hassle and know that your social media is intentional and focused on getting results (not just Likes).
---
Author Platform from Scratch is a 12-week collaborative process that includes discovery, branding, copywriting, email marketing and social media strategy.
---
In 3 months you'll have:
A ready-for-book-launch author website

Social media presence set-up (or audit)
Social media strategy
Email marketing system set-up
Email marketing strategy
Author Interview Cheat Sheet

Seven 1-on-1 meetings to make sure your branding and strategy represent you well and to keep the project on-schedule so you can quickly approve each part of the process

A package of social media graphics and a template to make more

Personalized How-to videos so it's easy to set-up an email newsletter, make changes to your website
At the end of the 12-week process, the author receives access to their fully functioning author platform, which is designed with a focus on making it easy for readers to purchase your book, join your email newsletter, and help spread the word on social media.
Timeline
There are seven 1-on-1 meetings that take place over Zoom throughout the 12 weeks to make sure your branding and strategy represent you well and to keep the project on schedule so you can collaborate on and quickly approve each part of the process.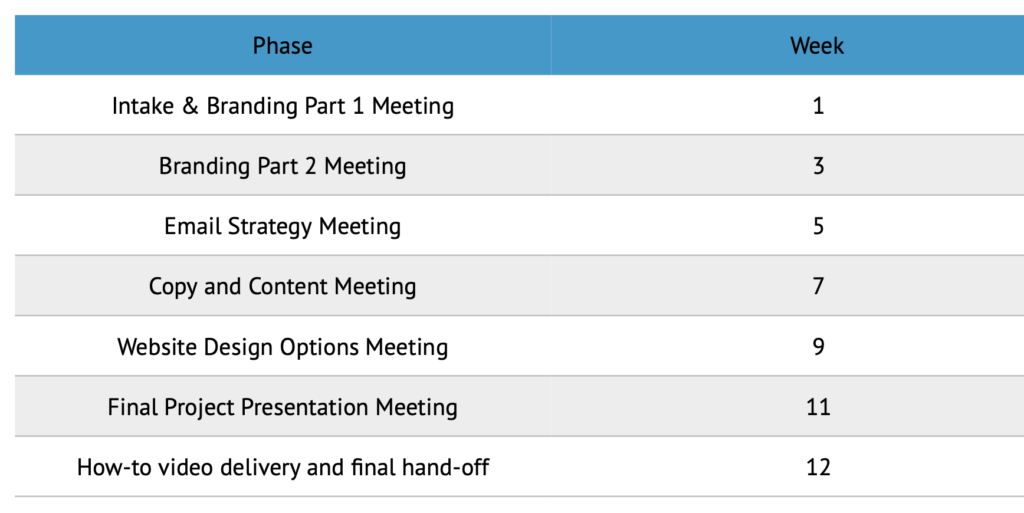 Our approach
Fancy websites don't matter if they don't help you reach your author goals. We use a content-first approach when it comes to building your author-book-sales-engine.
Your author platform will be designed around these specific goals for authors:
Make it easy for readers to purchase your book
Make it easy for readers to subscribe to your email list
Make it easy for readers to help spread the word about your book on social media
Branding + Marketing Foundations
During this process, we will lay the foundation for your author marketing by articulating what is most essential about you and your book. We will also look at what other authors in your space are doing effectively with their digital marketing and what types of content styles appeal to you. We will create an avatar of your ideal reader, and identify your content anchors. This process also includes tagline development, selecting colors and fonts, and results in identifying a few key visual elements that can be incorporated into your website and social media graphics. For authors with existing books, the visual branding often focuses on tying into your most recent book cover.
Strategy
When it comes to digital marketing, everything is connected and needs to be cohesive. Your email marketing and social media strategies are not independent because for authors, the primary goal is to get readers to purchase your book and the secondary goal is to get readers to subscribe to your email newsletter. Social media should be set up to support both of these ideal actions.
Website
We believe that authors don't need 100% custom websites unless they have other streams of income from their author website (like coaching, merch, or courses) or a more complex business model. There are so many effective and stunning templates that can be customized to support your author brand while reducing long- term hassle of maintaining and updating a custom website. After the branding process, we suggest 2 website templates that can be customized with your colors/fonts/style to support your primary author goals: sell books, get email subscribers, grow your audience.
Email marketing
We help you decide between Mailchimp or Convertkit and then set up your email marketing platform so that you clearly communicate to website visitors the benefits of joining your email list. You will have effective opt-ins on your website, a welcome email, a newsletter content strategy, a newsletter template, and instructions about how to edit and use these moving forward.
Social Media
If you have no social media accounts, we set them up for you, including helping you decide what your usernames should be, collaborating with you on your bios (and of course making sure they include a call to action!), advising on author profile photos, and creating banner graphics for Twitter, LinkedIn, and Facebook. At the end of this process, you will also have a Social Media Strategy that you're ready to execute with 9-12 social media graphics ready to go to get you started.
Do you need an Author Platform from Scratch?
If you're interested in working together to set up an author platform that is ready to effectively connect with your readers and help them see how your book is right for them, the first step is to fill out the form here and tell me about your project and deadlines. Then I will send you a link to schedule a paid Roadmapping/Introduction call. If it seems like a good fit for both of us, I'll send you an official proposal.
Investment for Author Platform from Scratch begins at $15,000